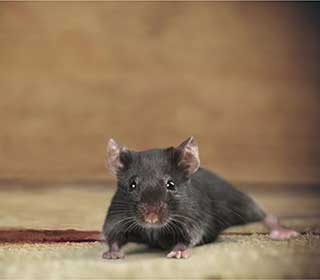 Mice and rats are some of the most persistent and dangerous pests a building can have. Fortunately, our team excels in removing these animals safely and humanely, as well as making sure they can't get back in.
Rodents Are A Serious Problem
There's not much that a rat or mouse infestation can't destroy. Rodents will chew through soft materials - clothing, papers, wires, even furniture stuffing and wall insulation can be quickly shredded. Wallpaper and plaster can get perforated by their burrowing and nesting. Mice and rats can also harbor bacteria and will eagerly spread it to any food or living spaces that they inhabit through saliva and droppings.
Proofing And Removal
Proofing a building against rodents requires finding every little crack or weak spot that they could use then sealing it up with an impervious material, such as cement or steel wool. These openings are rarely easy to find; you're much better off getting professional help. Dealing with an existing rodent infestation is more challenging still, since mice and rats can breed faster than you can catch them unless you know what you're doing and have the equipment for large scale removal.
Extermination Is Dangerous
It might be tempting to put out poison and try to kill off the infestation, but that can lead to even bigger problems. Rat poison is just as deadly to pets and children as it is to rodents, and the fumes or residue of these poisons can be hazardous even for healthy adults. That's why our company specializes in non-lethal removal; trapping and removing the pets isn't just kinder, it's also safer.
Contact Us Today
Whether you've had rodent problems in the past, or just don't want to take the chances of it ever happening, our rodent proofing services will keep you safe. If you have an infestation right now, then you'd best take care of the situation immediately. Give us a call and tell us where to send our experts!
We also offer:
Crawl Space Waterproofing