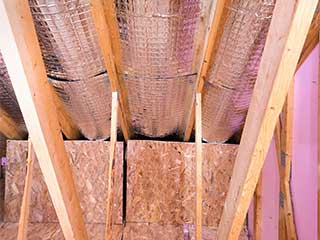 Many business property owners, whether we're talking about offices, shops and even hotels, seem to neglect the attic of their building. An unattended attic in a commercial building can cause lots of damage, especially when the insulation is not properly installed or the space becomes contaminated. This is actually the case in many such structures. Each day that goes by without having an issue like this taken care of is another day where your business is at risk. Here are just few of the risks improperly insulated or dirty attics can create.
Is Your Ceiling Dripping?
Imagine customers shopping at your store, whether a clothes shop or a grocery store, the weather has been stormy all day and rain is pouring down. Some people enter your store to buy something, whilst some are just looking for shelter for a few minutes as they wait for the rain to stop (these are, as you know, also potential customers). What if the ceiling suddenly starts dripping? Chances are that you will lose those customers as potential buyers, not just this one time, but probably forever.
Air Quality & Health Hazards
When the attic insulation of your business is not intact, air and water can come through the ceiling. We've talked about what happens when water starts coming in, but imagine what will happen on warm days, when the damp combines with heat. The moment this happens, mold starts to grow. Now, this is a serious health hazard for any business, especially if you are in the food service industry. The air quality will become worse, and mold will release spores into the air which can weaken walls and floors. Suddenly, you'll have some potentially serious structural and contamination issues to take care of before the health department comes and puts you out of business.
What You CAN Do
If it's been a while since you last cleaned or changed the insulation in your attic, now is the time to call our experts at Attic Cleaning Walnut Creek – we'll answer all your questions and ensure you get the most out of our professional commercial attic cleaning services. We can help with insulation removal and replacement as well as decontamination. We're here to keep your business safer and your customers happier – call us today!