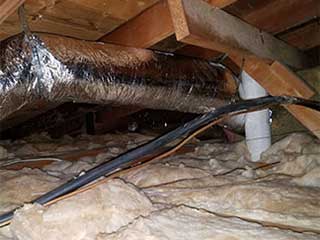 Why Get It Cleaned?
While you likely don't think about your crawl space often, it houses a lot of important features of your home. Pipes, cables and insulation are all necessary when it comes to keeping your household running well. Unfortunately, these components and more are at risk if your crawl space isn't cleared out every now and then.
Animals love crawl spaces and will destroy your insulation to use for nesting. They can also harm the vapor barrier in place that keeps moisture out to reduce the risk of mildew. Most concerning, however, is that their waste can not only draw in insects, but spawn diseases as well. These health hazards can easily get into your home and put you and your family at risk.
Water leaks can also allow mold to grow, which will ruin your insulation as well as eat away at wood, pipes, and otherwise.
What Should You Look For?
How do you know if it's time to get it cleaned? There are a few simple signs to keep an eye out for! If you're aware of any water leaks that may have gotten into the crawl space, or that animals have been poking around, those are certainly both indications that damage may have occurred. There are also visual signs if you can safely look into the area, as droppings or mold may be spotted. Even if you can't see all that well, you may instead notice a foul odor, particularly if mildew or animal waste is involved.
Another signal that something is wrong is your energy costs. If they've been rising and you aren't sure why, it may be due to damaged insulation.
We're Here To Help!
Our experts can safely remove damaged insulation, debris, dust, and anything else necessary from your crawl space all while ensuring that it can't pollute your home's air. That's the benefit of getting professional assistance!
Call Us Today!
Get your crawl space cleared out in no time by contacting Attic Cleaning Walnut Creek now.